2014 Chinese Super League [1st Stage]
# BAYI Vs BAZHOU (Round1/May17)
1. Fan Zhendong - Cheng Jingqi
2. Zhou Yu - Fan Shengpeng
3. Wang Hao / Zhou Yu - Cheng Jingqi / Zhai Chao
4. Fan Zhendong - Fan Shengpeng
Many Thanks to Guwahati Sports! ?
http://bbs.52waha.com
& CCTV-5 HD || Credits to CTTA* / ? CTTA
Bayi: Wang Hao, Zhou Yu, Fan Zhendong, Xu Chenhao
Bazhou: Liang Jingkun, Zhai Chao, Cheng Jingqi, Fan Shengpeng
* CTTA = Chinese Table Tennis Association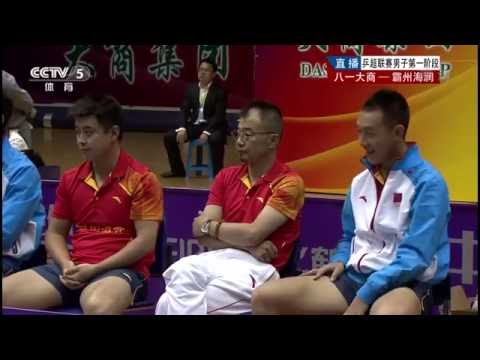 - - - Actualizat - - -
Round 1 Results(May,17)
In round 1 of the Chinese Super League Ma Long's Ningbo met Ma Lin's Shandong Weiqiao, Liu Jikang's Guangdong took on Zhang Jike's Shandong Lunenng, Zhang Chao's Jiangsu played Kong Lingxuan's Tianjin and Fan Zhendong's Bayi faced Fan Shengpeng's Bazhou.
Shandong Weiqiao 0-3 Ningbo
Ma Lin 0-3 Ma Long
Liu Yi 1-3 Yan An
Ma Lin/Jiang Tianyi 1-2 Yan An/Lin Gaoyuan
Guangdong 0-3 Shandong Lunenng
Yin Hang 2-3 Hao Shuai
Liu Jikang 1-3 Zhang Jike
Liu Jikang/Liu Yanan 1-2 Haoshuai/Fang Bo
Jiangsu 3-0 Tianjin
Cui Qinglei 3-0 Kong Lingxuan
Zhang Chao 3-1 Ma Te
Zhang Chao/Lin Chen 2-0 Ma Te/Li Ping
Sichuan 1-3 Shanghai
Zhu Linfeng 2-3 Xu Xin
Zheng Peifeng 2-3 Shang Kun
Zhu Linfeng/Xu Reifeng 2-0 Shang Kun/Zhao Zihao
Zheng Peifeng 1-3 Xu Xin
Bayi 3-1 Bazhou
Fan Zhendong 3-2 Cheng Jingqi
Zhou Yu 3-0 Fan Shengpeng
Wang Hao/Zhou Yu 1-2 Cheng Jingqi/Zhai Chao
Fan Zhendong 3-0 Fan Shengpeng
Ma Long vs Ma Lin
http://www.tudou.com/programs/view/Hnj-1VWkXR4/
ZJK vs Liu Jikang
http://www.tudou.com/programs/view/wkVXCLF_VMg/
http://www.tudou.com/programs/view/J65rnfkGp30/
- - - Actualizat - - -
https://www.youtube.com/watch?v=VCtk6V1OYEw
https://www.youtube.com/watch?v=jr_A6wbDzTE
https://www.youtube.com/watch?v=wdGslJV7bl4